The email just hit your inbox, and it's that time. Your office or your church or your family is getting everyone together for food. Whether you call it a potluck, a covered dish social or a "spread," you're in for a treat.
You might be feeling a little bit of pressure, though. If you don't cook, or if you're new around here, or if you prefer different cuisine than your fellow eaters, you might be wondering what to bring. If you have passed-down-for-generations family recipes, you're probably already on your way to stardom in the potluck set. If not, I have some favorites for you – recipes included, some of which are surprisingly easy to make (or pick up at the store.)
Appetizers/Snacks
Appetizers and snacks round out the meal, but they can also serve as a quick fix for those who can't get away for their lunch hour right when the luncheon starts. Finger foods at your desk can tide you over till you're able to grab a full plate.
Chips and Dips
Bringing chips to a potluck is really the easy way out, but you can turn it into a heroic moment. Bring a bag of tortilla chips and also bring Ro*Tel® dip in the Crock-Pot®. People fall all over themselves to eat this dip.
It's so easy to make – you don't really need a recipe. Just cut a 1-lb loaf of Velveeta® into cubes and stir in one can of Ro*Tel Diced Tomatoes & Green Chilies. Heat it up in a saucepan until it melts or make it right in the slow cooker. The dip can be topped with pickled jalapeño peppers for added heat.
Photo courtesy of RO*TEL
Texas Caviar/ Cowboy Caviar
Texas Caviar will go great with those chips too, and there's no cooking required. Lots of people like to load up tortilla chips with this chilled relish made with black-eyed peas, onions, peppers and more.
Glazed Little Smokies
Another slow cooker favorite, cocktail weenies somehow end up on everybody's plate. Traditionally cooked in grape jelly and barbecue sauce the small sausages from Hillshire Farms also taste great with alternative flavors.
Lit'l Party Delights have more complex flavors including cinnamon, nutmeg, and ginger. Cocktail bites are made with currant jelly or cranberry sauce and ketchup. There's also a Maple and Beer Glazed variety and a Crispy Orange style with crushed red chilies, (similar to Orange Chicken.)
A Cheese Ball or Cheese & Crackers Tray
A cheese tray is always a nice addition. Typically, cheese and crackers will make a quick disappearing act whether you bring basic cheeses (cheddar, Colby, jack) or foodie favorites (gorgonzola, emmental, gouda). The grocery store can come to the rescue for this one if you're really short on time.
For real recognition in a friendly covered dish "competition", put together a great cheese ball, like this recipe from EatingonaDime.com.
Photo courtesy of Eating on a Dime
Mini sandwiches
Every workplace has a few picky eaters, and usually a few people are so busy they can't get away from their desk to enjoy the spread. That makes sandwiches a welcome addition, and mini sandwiches can be fabulous. Simple pimento cheese or peanut butter-and-jelly on fresh bread triangles get the job done, but pinwheels kick the sandwich game up a notch.
Consider using specialty "flatbreads" instead of tortillas, especially if you're looking to satisfy the gluten-free set. Play with the recipe and ingredients until you have pinwheel mini sandwiches of epic deliciousness. There won't be any left to bring home.
Baking Mix Sausage Balls
This is a nice, easy-to-make treat that busy co-workers will appreciate. If you want to offer them up before the luncheon gets started, folks can quickly microwave a treat-sized portion to hold their hunger at bay until the main feast is ready.
With just three ingredients, easy baking, and even easier reheating, you'll be thanking Bisquick® for this great recipe.
Salads & Cold Dishes
It's great to have a selection of salads and cold dishes so everyone doesn't have to wait in line for the microwave when lunchtime comes.
Fruit Salad
Fruit salad can mean a lot of different things to different people. For some, it's a can of fruit cocktail stirred into Cool Whip. Your friends and coworkers deserve better. Try this easy fruit salad recipe with or without fresh fruit additions. It's tastier and prettier too. You can choose your own fruits to add to the dish -frozen blueberries go well with the peaches and strawberries; sliced bananas, grapes, and kiwi make it fabulous
Jell-O Salads
Food publications and websites trying not to use Jell-O® brand name call it congealed salad, which sounds just awful. But if you're from around here, you know it's delicious, because you grew up eating pink salad, green stuff, or Coca Cola® Jell-O salad at church or family spreads. Choose your childhood favorite, take it to work, and watch it disappear.
Photo courtesy of Wikimedia Commons
Deviled Eggs
Deviled means spiced up – not necessarily chopped or deconstructed. When served at church spreads, where reference to the devil, even tangentially wasn't cool, they were often known as "dressed eggs" or "salad eggs." Whatever you call them, and however you make them, these will be a hit at your covered dish gathering.
If you don't have a generations-old family recipe, you can use Paula Deen's.
Green Salad
It's easy to toss some salad greens into a bowl, and you can even buy a bagged salad to save on time. But if you want to raise your potluck profile, make some homemade ranch dressing to go with it. Even if you keep it simple, mayo, buttermilk, and a seasoning packet yield a delicious dressing that's exponentially better than the bottled kind. If Ranch is not your favorite (what?!) or you want to make something you're sure no one else will bring, pick any type of dressing you like, and make it from scratch. Or from a packet – it will still taste so much better than bottled dressing, no one will complain.
Veggie Trays
These can be purchased from the store, or you can get creative with your selection of fresh veggies. You really can't go wrong with a veggie tray – whether people use it as a palate cleanser from a steady stream of fatty foods or as a fresh vegetarian option, raw veggies are always just right. You might even team up with a coworker or two to make something spectacular (maybe with some of that homemade salad dressing, hint, hint.)
Potato Salad
Potato salad is a top dish for eating with barbecue, and it's a prime pick at the potluck too. Family recipes are best, but if you don't have one, adopt one of these recipes. With 44 options, you're sure to find one you'll want to share as your own "famous" potato salad.
Frito Salad
I once forgot about an office potluck until the last minute and really didn't have time to cook. I threw together a Frito Salad with the chips plus lettuce, tomatoes, onions, beans, and Catalina dressing. I hoped I wouldn't be bringing the whole (giant) bowl home. It was gone so fast I had the empty bowl washed and ready to take home even before everyone finished eating. It's a nice, light dish that appeals to a wide range of taste profiles. People who are cutting back on meat really like it too. Since RanchStyle® beans (containing beef fat) are traditionally served in this, it's not a vegetarian food, but if you want to make it 100% meatless, look for a brand of canned pinto beansthat's labeled vegetarian.
Entrees
Casseroles are popular because they're easy to make and they heat up well. Slow cooker dishes also make preparation and reheating easy. Favorite Mexican or Tex-Mex dishes are a little more work, but their popularity makes them worth the effort.
King Ranch Casserole or Chicken Spaghetti Casserole
This is another winner (or two) from Ro*Tel that's been gobbled up at family dinners and covered dish gatherings in Texas for forever. It's easy to make, and its only drawback is that if you make it with chips (and some people do), they will get soggy. You can use uncooked corn tortillas for a less crunchy (but not soggy) casserole, or try my favorite trick. Make the chicken and sauce as you normally would. Then boil some regular spaghetti noodles and use your King Ranch recipe as the sauce. Easy to eat, no sogginess, and all the deliciousness everyone expects.
Divine Casserole
This casserole has a lot of different names. It's been called Sour Cream Noodle Bake, Sour Cream Baked Spaghetti, Husband's Delight, and Italian Delight. This recipe site says it's even been called the Godfather Casserole. Whatever you call it, this rich and creamy spaghetti dish will have everyone raving. Take this to work, and you'll surely be bringing home an empty dish.
Tuna Noodle Casserole
Classic comfort food is never the wrong thing to bring to a potluck. Whether you go fancy with your sauce recipe or use condensed soup for your casserole, this retro dish could make you the hero of the day.
Chicken and Dressing
Chicken and dressing isn't exactly a casserole, but it does prep quickly and easily. It's also easy to reheat a whole dish or one portion at a time. At our extended family gatherings, grandpa made a gargantuan amount in a cast iron turkey roaster instead of a smaller glass baking dish. We never had leftovers.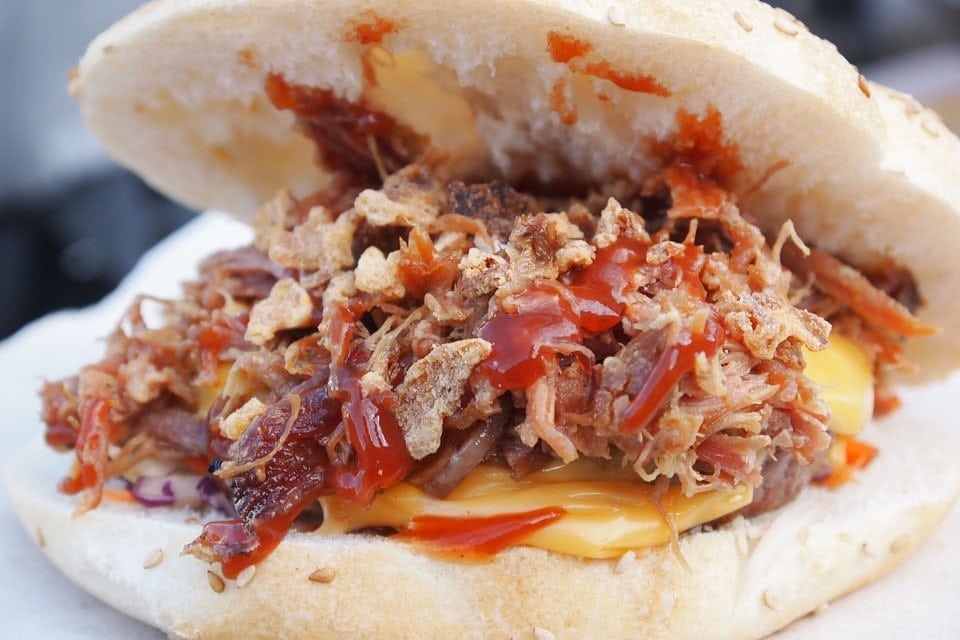 Crockpot Pulled Pork
Pork shoulder is a great, affordable cut of meat. Cook some in your Crock-Pot and bring that to work. Whether you season it with barbecue flavors or taco seasoning, or in some other style, you're bound to have your fellow eaters jumping for joy. When Epicurious tells you no recipe is needed, you just know it's going to be good.
Tamales
If you make homemade tamales or know someone who does, that's your surefire path to hero status at the company potluck. (Tamales might even take the "prize" at a church social, but those casseroles are gonna be tough to beat.) You can even buy them at a neighborhood taco stand – everyone will know that homemade doesn't mean in your home, and no one will care.
Other Tex-Mex favorites like enchiladas and carne asadaare likely to be gobbled up too.
Veggies and Sides
Mac 'n Cheese
Homemade mac and cheese can be a tricky thing to bring to a covered-dish lunch. For best results, use a tried and true family recipe or the recipe from Southern Living Magazine. If you live in Texas and plan to share food with friends on a regular basis, at least one Southern Living annual cookbook is a must. Just one will keep you in potluck recipes for at least the next decade, but they publish a new version and more recipes every year.
Hashbrown Casserole
Funeral potatoes and hashbrown casserole aren't really the same thing but both are awesome. Faces will light up when people spy these tasty taters on the communal table. Try your hand at Funeral Potatoes with this recipe or make Hashbrown Casserole that tastes like the one at Cracker Barrel™.
Green Beans
Green beans may not be spectacular, but they're the one vegetable everybody likes. If you fancy them up, you may lose the widespread appeal, but green bean casserole, green beans amandine, and fresh cut green beans cooked with bacon, onions, and garlic will definitely go over well.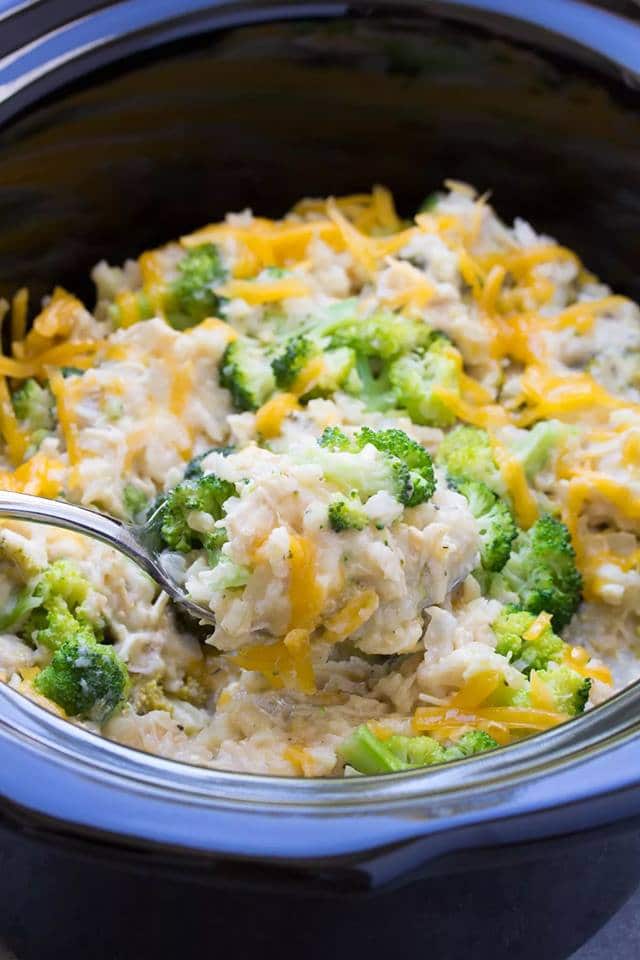 Photo courtesy of Incredible Recipes
Broccoli Rice Casserole
Even vegetable-haters will put a spoonful (or more) of broccoli rice casserole on their plates. It's a pretty dish and it goes well with all of the other casseroles and meat dishes being served. Plenty of people love it, and plenty of those who don't will eat some rather than be shamed for the lack of vegetables they've selected.
Bread
You can't go wrong here, and whether you use a breadmaker, bake prepared dough, or stop by your local bakery, your contribution will be highly valued.
Photo courtesy of Tasty Food Recipes
Pull-Apart Bread
If you want to make some delicious bread using refrigerated dough and ingredients you probably have on hand at home, try one of these 15 Recipes for Pull-Apart Breads.
Desserts
Photo courtesy of No Place Like Home Cooking
Texas Sheet Cake
This dessert is kind of the reigning prom queen of the pot luck popularity poll. It's not hard to make, and it's very hard to resist. If you've never made Texas Sheet Cake, try this recipe.
Sopapilla Cheesecake
The best dessert I ever ate at a potluck was sopapilla cheesecake. Despite my love for Mexican and Tex-Mex dishes, I'd never heard of this dessert or tasted it until someone brought it to work. To my delight, when I found the recipe, I discovered that it's much easier to make than actual sopapillas.
Gooey Butter Cake
Sopapilla cheesecake is a bit similar to the St. Louis dessert staple, gooey butter cake. Saint Louis?! What?!
It's true that this super rich and sweet dessert that's considered a southern staple actually originated in Missouri. Make yours with Martha Stewart's recipe or with the one your family has passed down. Either way, it's likely to be a hit at the potluck.
Pie
Pie is such a perfect dessert that it doesn't even matter what kind it is. Lemon pie, pecan pie, cherry pie, apple pie, pumpkin pie – really and truly, every kind of pie is welcome at a shared food social. For some people, pie is such a rare treat that they'll even grab a slice of store-bought pie over a homemade dessert. Find your favorite, search out a recipe (or a local bakery) and get ready for some potluck praise.
My New Favorite
I've never seen this at a potluck, but of course I found the recipe while researching this. If you are ever heading to a pot luck where you know I'll be, bring this Boston Cream Pie Poke Cake, and I'll make sure all if it gets eaten.
All of the Above and More
Your own specialty
I pulled together these ideas and recipes to help you, but as a point of fact, the best dish to bring to a potluck is probably the dish you love to make (and eat.) If you have favorite dishes you bring to social gatherings, please share them with us in the comments here or on our Facebook page.