Have you been sitting at home, feeling like gravity is getting you down? Well, take a stand! Here are a few ways for you to take a flying leap here in the Dallas/Fort Worth area and really get you up in the air. How's the weather up there, your friends will ask, and you'll know what to tell them.
From someone afraid of heights, here's my slightly sarcastic and definitely neurotic take on the finest mid-air action North Texas has to offer.
Water Jet Pack (Flyboarding)
The first "water jet pack," or Flyboard, can send you swimming through water like a dolphin or in the air like iron man, says their website. Several by-the-minute packages offered at Lewisville Lake for $69-$199. As close to a Jetson's jet pack as humanity has come so far, I think. I could get a few inches off the lake but some people reach up to 15 to 35 feet in the air. Here's one at Hackberry Creek Park in Frisco and one in North Dallas on Lake Ray Hubbard.
Hot Air Balloon Rides
There are actually quite a few Hot Air Balloon Ride companies in North Texas. Apparently the weather here is optimal for a nice, unsteerable drift a thousand feet in the air and into some power lines. Some offer tethered rides, which is more my speed. Or not-speed, as may be the case.
Old Time Plane Ride
This is the Greatest Generation Aircraft, a nonprofit located at the north end of Meacham Field in FW. They call their org a "Flight Activity Center" rather than a museum, even though the experience looks rich with history. You and the father you don't like that much can go on a 30-minute Father's Day flight for $189.
Cessna flights
Starlight Flights offer several different tours – Christmas lights, marriage proposals, Valentines, and more. The prices and flight times vary but start at $190 for 30 minutes.
Delta Charlie offers a three-course dinner while sightseeing over Dallas in a Cessna 172 four-seater.​
My dad piloted a Cessna Beechcraft (thanks, sis!) decades ago, and we crash-landed when I was 6 years old. But hey, we survived! I've always been a nervous flyer, though. Thanks, Dad. Let's take a ride on the Greatest Generation Aircraft!
Helicopter Rides​
Epic offers helicopter tours around fireworks​ and fly-in winery/vineyard tours. You can also get flight instruction at $179 and up. I've never been in one, but I hear they are meant for people who don't mind vomiting on the go.
Glider Plane Rides
Also called sailplanes, these are launched from a towplane then glide and soar like winged eagles – no motors. ​No. Engines. Right as you see your life flash before your eyes, the pilot then increases the drag and reduces the lift, and you circle back to the landing airfield (which you haven't strayed far from anyway. One at Dallas Sail Planes; one at Texas Soars in Midlothian: $100 for a 20- to 30-minute flight.
iFly
I'm a bit obsessed about this iFly indoor skydiving experience because it sounds so adventurous without all the risk of death. The requirements have a weight limit and I'm too heavy, but dang, it sure would be great to try. Gotta lay off the pizza so I can give this a go one day. You can read more about what to expect at iFly in Tre's story here.
Skydiving
If you really would rather have the real thing, there are a couple places to fall fast out of a perfectly good airplane: Fort Worth Skydiving and Skydiving Over Dallas. There's a backup parachute that deploys automatically in case you "forget" to pull your ripcord. It would be easy for me to forget since my screaming would be so distracting.
While it seems a lot like jumping from a cliff wearing nothing but a trenchcoat, wingsuit flying is a thing. There are "complexities" and "nuances" and you could "lose ground awareness" … haha that's it, I'm done here but you can read more over at Texas Wingsuit Academy.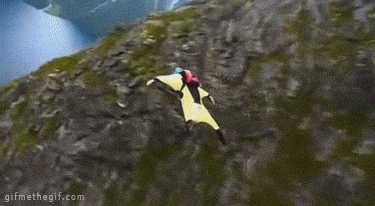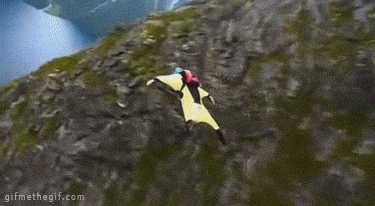 Ziplining​
We get so used to being on the ground, don't we? Zip-lining seems easy-breezy. Like a bird. Like a trolley without the ground … or the trolley. Just fun times pretending to be something we're not with equipment that could fail us at any moment, dropping us to the ground below. I can't wait!
The Go Ape Treetop Adventure in Plano has some pretty good Google reviews.
Trinity Forest Adventure Park in Dallas
Didn't know there was a New York, Texas, but they have GoZip zip-line a bit out of town heading east. Go out far enough and no one can hear you scream.
Bounce ​ Parks
These seem like a great way to get fun exercise if you're an adult with good knees. You can throw a rock and hit a trampoline park on every corner nowadays. When I was a kid, a neighbor had a rickety trampoline with a hole in it and no safety guard netting. I probably jumped with a fork and a puppy too. Those were the days!
​Rock Climbing
Here's a great FAQ about rock climbing that will help non-climbers understand the draw to the sport. I still don't understand, but I lack all upper-body strength, so how could I?
Hang Gliding
Out of Grayson county, take a flying leap with Hang Dog Hang Gliding Instruction at $90 for a single tandem flight. Here's their extensive FAQ. I used to think this would be a cool thing to try until I got old enough to realize that the pain of surviving this could be worse than death.
Paragliding
Paragliding is another way to get your butt up there. Often using a foot-launch or towed launch (the boats pulling people off the shore and into the air, as an example – a human kite, basically), paragliders are different from skydiving and hang gliding. You can spend more time soaring through the air. Where can you do this, you ask? Here, of course. You get to rely entirely on your own expertise to fall gracefully to your death.
Trapeze
"Swing through the air with the greatest of ease…" Not sure why a playground swing set wasn't enough, but Dallas now has an aerial training center and a trapeze rig. With enough practice, at Skyline Trapeze, you'll swing, drop into the net, and yes, perform catches. Why not. Let's do it. You first.
Bungee Jumping
Zero Gravity Thrill Park is a bungee-jumping extravaganza, but they also have a 16-story free fall into a net. Basically every extreme ride is going to toss you into the air somehow, either really fast or really far. For five rides it's $80, and for five rides with video of you screaming your brains out on each one, it's $120.
Aerial Yoga
Finally, something not so extreme, but still off the ground. Aerial (aka anti-gravity) yoga is basically performing yoga poses in a hammock that hangs secured to the ceiling. It's known to relieve stress on joints that regular poses (and gravity) can cause. If you're going to do this, though, why not get a real hammock and just take a nap? Naps are also good for the joints.
And finally, because it seems too cool to be true, there was once a company called Airship Ventures out of Fort Worth Alliance that offered zeppelin airship rides. Dirigibles! Blimps! It went out of business in 2012, but now that there's no chance whatsoever, I can say HEY I would have totally gone on that one!!
All of these amazing places and adventures require a spirit of crazy-go-nuts, but each place has its own waivers and disclaimers. Here's mine: Don't do any of these things because the ground is hard and gravity sucks. Just because I told you about these places DOESN'T MEAN I APPROVE. Ahem. This is not a sponsored post and none of these are affiliate links.