Getting out of the city to spend some quality time with Mother Nature isn't hard to do with just a little planning. Whether you're looking to book a weekend camping adventure, or you just want to spend a weekend exploring options for outdoor fun, here are some of your best bets to be found in a short drive to Denton County!
The most popular destination has a ton of choices for camping, hiking, biking, fishing, swimming, watersports, and a variety of outdoor programs. Ray Roberts Lake State Park is a natural playground with camping, cabins, or Lone Star Lodge if you love nature but prefer a bed with A/C. They also offer guided day and nighttime programs like birdwatching, stargazing, camping hacks, geocaching, Ranger Programs, and even all-inclusive Outdoor Family Weekends like the one coming up on October 20th! Register early because the programs can fill fast, but the swimming beach is a guaranteed winner for spending a relaxing day! Entry fee is $7 for adults while kids 12 and under get in for FREE. While you're up that way, you can also look into horseback riding the nearby trails, or experience Lavender Ridge Farms near Gainesville!
Northern Denton County also boasts a couple of fun outdoor adventures if you like walking on the wild side. During the spring Texas Tulips in Pilot Point brings splashes of color from the Netherlands to fill fields of flowers that you can stroll, but the rest of the year the nearby Sharkarosa Wildlife Ranch offers a weekend menagerie of critters available for close encounters, presentations, and pony rides! Closer to Denton, you can also visit Patrick's Pastures Alpaca Ranch, and even stay in their charming Old Irish Bed & Breakfast!
But wait, there's more! Denton's Clear Creek Natural Heritage Center includes the intersection of Clear Creek and the Elm Fork of the Trinity River, so this preserve is a gateway to more than 2,900 acres of bottomland hardwood forest, upland prairie, and diverse aquatic habitats located within Lake Lewisville's upper floodplain. Managed by the City of Denton, their mission is to inspire greater environmental citizenship by providing classes, educational programs, research and restoration projects, but also outdoor experiences that are open to everyone. You can register for one of their free hands-on workshops with community experts that introduce topics like organic gardening, rainwater harvesting, vermiculture, composting, herb gardening, bird walks, and foraging!
And let me tell y'all, Clear Creek is a breathtakingly lovely spot for a walkabout. CCNHC boasts more than 10 miles of easy-walking hiking trails through diverse habitats teeming with wildlife, including Fisherman's Trail along the winding creek, the Wetlands Trail showcasing waterfowl and beavers, Old Wetlands Road and the High Trail meander through thick shaded forest, and the outer loop of the trail system is 3.2 miles that are perfect for runners and dog-friendly. Hiking trails are open from 6am to 10pm daily, but the Education Center is open only during workshops or special events, although you can schedule a free group hike of the natural ecosystems guided by trained Master Naturalists expert on various subjects.Just check their calendar or Facebook page for upcoming events, or get your family involved as volunteers!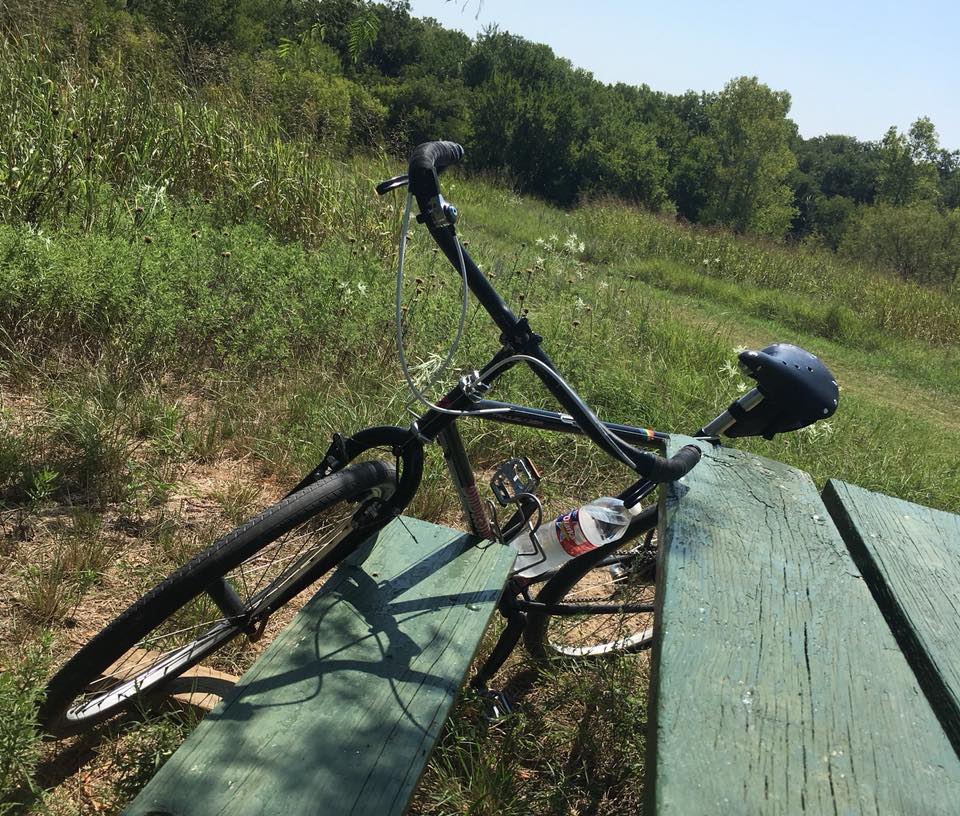 But if you're looking for an extended nature trail for hiking or biking, we have a dandy. The Greenbelt Trail Corridor (sometimes called the 380 Greenbelt) is a 20-mile multi-use trail maintained by Texas Parks and Wildlife that meanders alongside the Elm Fork creek between Hwy 380 (University Drive) from the south access outside Denton all the way up to its northern point at Lake Ray Roberts Dam. You can park and drop-in at one of several access points and then explore the shady pathswhile trading smiles with mountain bikers, hikers, joggers, doggos, and the occasional horseback rider. There are numerous spots to picnic or drink in scenic vistas along the way. Just remember, if you bring it in then bring it back out, because no one likes a litterbug.
Southern Denton County also has a hidden outdoor gem worth the travel with their Lewisville Lake Environmental Learning Area. LLELA has primitive campsites, six miles of meandering trails through woodlands and wetlands, and a series of guided weekend activities. The 1869 Log House is a restored rustic prairie cabin filled with late-1800s artifacts that you can visit every third Saturday of most months, but their "Christmas At The Cabin" is a wonderful event showcasing an old-timey pioneer holiday with lots of hands-on activities that's just like stepping back in time! Admission is just $5 per vehicle. There are also horseback trail rides and lessons available in nearby Corinth at RNR Stables.
Meanwhile, the City of Denton has a nice variety of Parks and Trails or Playgrounds to explore around the city limits! Eureka Park is an amazing playground that you only wish you'd had as a kid, North Lakes Park has a sports complex with batting cages and a disc golf course, Bike trails and group rides are plentiful, there are water parks and a splashpad, and scads of other family-friendly fun spots to scout around town!I also cannot fail to recommend the Denton County Museums and local Art galleries as amazing destinations for educational and entertaining outings as you amble around town.
Even when the hot Texas weather is trying to murder us, you can stay cool with these easy daytrips to beat the heat or enjoy the cooler temperatures when they arrive. Just remember to drink plenty of water and bring the sunscreen, then use this handy guide whenever you are looking to turn another boring weekend into an adventure outdoors around Denton!
All photos (c) Shaun Treat, taken at Clear Creek Natural Heritage Center.