I've spent much of my life cooking for myself and my family. I'm mostly Italian, so I got handed a few good recipes – lasagna, from-scratch tomato sauce, Easter pie, pizelle, manicotti, my grandmother's delicious but seriously rich Italian stuffing. (You slice it. With a sharp knife and a friend to spot you.) I watched a few episodes of Alton Brown and found that the shows only made me hungry. Iron Chef and Hell's Kitchen just stressed me out. I like to eat and share food but never put much thought into the process.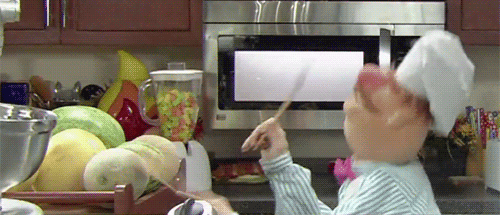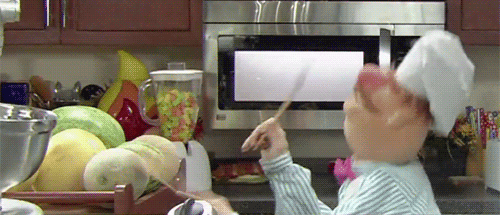 Recently I got invited to a Dallas event at a place called Team Building with Taste. We got assigned to a small group: each group got their own recipe to create. The goal is to work together and customize, beautify and primp this recipe to beat out the other teams. Each team has a "helper chef" and we all have access to organized tools and pantry supplies. Everything was clean, and stainless-steel shiny. We get graded by the green coats for taste, presentation and we have to do it all in less than an hour!
So our team's recipe was Smoked Salmon Crostini. I am just now meeting my teammates. I pull my hair back and try to get oriented – pantry, stove, sink, utensils, ingredients — check. Chef Joey and the Green Coat Band are telling us ANYTHING CAN HAPPEN. I've never been particularly competitive, but something clicks. I'm getting revved up and excited!
The clock starts – timer is on the wall.
I'm staring at leeks which I've never handled in my life. Hulk scallions – whoa!
The ladies who are with me are cool as cucumbers and I'm all "WHERE IS THE CUTTING BOARD?!?" It's got leeks on it. In front of you. Oh.
I am cutting what feels like a thousand leeks. I am focused. Determined. The ladies on my team slice, butter and season baguettes, while sipping mimosas. They ask me a question about the heavy cream, but I say something obscure like, "We have to win this. WE CAN WIN THIS." I brandish parmesan like I'm in Braveheart.
A chef trained in talking down cooking participants from neuroses shows me a better way to use a chef's knife. It's pretty awesome, and I use his method to this day.
My teammates are sauteing leeks and I'm cutting slices of salmon. Suddenly, we are told they are taking our helper chef away. OH FFS. I NEED CHEF PAULA, SHE KNOWS WHERE THE SUNDRIED TOMATOES ARE. One of my teammates walks over to the box marked Sundried Tomatoes. Okay, fine.
The director Shawn walks by and gives me a hint about rolling the salmon. I'm wondering if it's cheating to get help from the help. I don't care and start rolling one-inch pieces of salmon.
Suddenly the green coats tell us we can't talk to each other for five minutes. It doesn't register and I immediately ask a teammate, "What did they mean? Why can't we say anything? I think we should get these in a row. This is really fun, huh?" She stares at me, smiling. I blink. Ohhhh. UPPING THE CHALLENGE. Got it.
Five minutes left on the clock. I'm rolling chives into salmon super fast. LIKE THE WIND, I tell you. We're taste-testing with approval all around. We get three on a plate for our presentation. The rest we set for everyone else to nosh.
Buzzer. We made it!
Smoked Salmon Crostini
Beef Sliders with Sweet Potato Fries
A slideshow of our group's experience compliments of the Team Building with Taste folks. You'd get your own, too.
So four teams in all have worked together to create recipes like sliders, lettuce wraps, scotch eggs and of course the crostini. Our particular event focused on appetizers, but Team Building with Taste can do full dinners or just desserts, with cost to scale. We go back to the seated area and give a mini-presentation of our dish. I told the girls I would do it, because in my head, I am a clear and clever speaker! When you go, find out who the public speaker is on your team first thing. If I'm on your team, don't let it be me.
The other teams did great, and we all got to try each other's creations. Chef Joey gave us the "judges'" call – walked us through their thoughts on our taste and presentation for every dish. Our Smoked Salmon Crostini won best presentation and best taste!!! I LOVE THE SMELL OF COMPETITION IN THE MORNING!!!
I had a freaking blast and I'm already trying to plan a birthday party at Team Building with Taste. If you're looking for a unique group event, I don't care if you are team building or not – go to this place, and craft an awesome event that's IN YOUR BUDGET. IT WAS SO MUCH FUN, even for anxious know-it-alls like me!! (I didn't get paid for this review, but I got to go play for free. I'd pay to do it again, just so you know.)
LOCATION
18101 Preston Ave
Dallas, TX | Route Map
TURF: North Dallas
WHAT MAKES IT FUN?
Start to finish, the experience was exciting, energetic, memorable and delicious, plus we had help at every turn. Want your boss to pay for yours? Send 'em to the Team Building with Taste website.
Categories: Fun Places